Kelly's Calico Apple Bars
flower7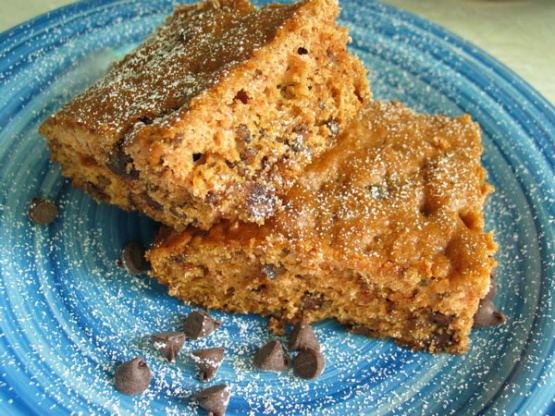 Rich, moist bar cookies that taste more like a very rich cake! Packed with chocolate chips, raisins, pecans and applesauce! Pure heaven!
Note: I have tried both the 6 oz and the 12 oz size bags before--Both work; The 6 oz works perfectly, but when I am BINGING for chocolate I have used the 12 oz size bag instead; (hehe) The 12 oz size makes them VERY chocolately, though, and are just a bit harder to cut due to all that ooey, gooey chocolate!
Either way, you can't go wrong!
Cream shortening and sugar, add eggs, beat.
Add dry ingredients alternately with applesauce.
(I add half of the flour with the rest of the dry ingredients, then half of the applesauce, then the rest of the flour, then the rest of the applesauce).
Fold in chips, raisins and pecans.
Bake in greased 13x9 baking pan or glass dish for 40 minutes at 350°, cool completely, sift powdered sugar over top, cut into bars.
HEAVEN!