Kathy's Potato Dumplings (Kartoffelklosse)
2Bleu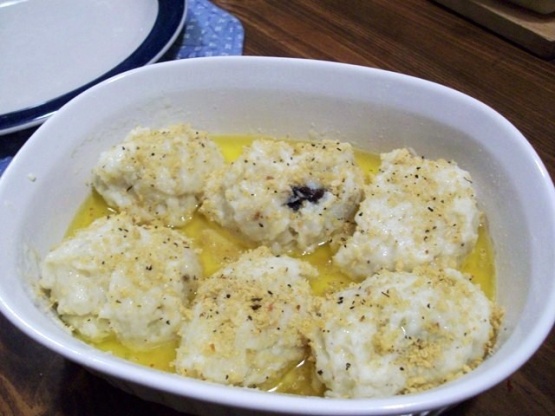 From the recipe collection of Bird's sister Kathy. Kartoffelklösse are traditionally served alongside a Roast with lashings of gravy or with Sauerbraten and Rotkohl. Croutons are traditionally inside the dumplings to soak up any extra moisture inside the Kartoffelklösse while prunes are a common filling when accompanying a roast goose, turkey, or other fowl at Christmas. Leftover potato dumplings can be enjoyed the following day sautéed in the butter.

Yum. Even better than the Polish dumplings I usually make with grated raw potato! Used russet potatoes and the traditional crouton center. I fried the breadcrumbs, recipe #286493, in a little butter to garnish the cooked dumplings. Served with roast beef and gravy, carrots, and recipe #148768.
2

lbs potatoes
kosher salt, to taste
1⁄4 teaspoon freshly grated nutmeg
1⁄2 cup flour (more if needed)

1

egg, beaten

12

prunes (or 12 large croutons)
1⁄2 cup butter, melted (1 stick)
3⁄4 cup seasoned bread crumbs (or seasoned panko) (optional)
Scrub and rinse the potatoes well and place in a large saucepan of cold water. Bring the unpeeled potatoes to the boil, add some salt and simmer the potatoes for 35-40 minutes or until just tender.
Drain the potatoes and cool them slightly for easy handling. You should be able to peel the skins away from the flesh of the potatoes with your bare hands.
Once all the potatoes are peeled, cut them into even-sized pieces and refrigerate until cold (up to overnight).
Mash the potatoes in a large bowl. Mix in the salt and freshly grated nutmeg. Add half a cup of flour and mix to combine. With your hands knead the mixture in the bowl until a smooth soft dough forms, add more flour by the tablespoon if the dough remains sticky. Finally, add the beaten egg to the mixture.
Using 1/4 cup of dough, form the mixture into balls. Insert a crouton, (or prune) into each dumpling. Sealing the filling closed around the dumpling.
In a large saucepan of salted simmering water (not boiling), carefully place the dumplings into the water in batches of 4-5. Do not overcrowd them where they may stick together or touch during cooking, which may cause them to fall apart. Cook the dumplings until the dumplings rise to the surface, about 10-14 minutes.
In a wide bowl, add melted butter. Remove dumplings with a slotted spoon or strainer. Shake gently to drain, then toss gently in a bowl of melted butter. Cover with lid and keep warm while cooking the remaining dumplings and add them to the butter as well. Sprinkle entire batch with bread crumbs (if desired) and serve.