Kana K.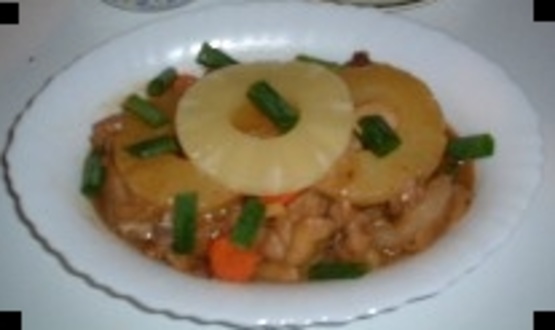 Kana's kitchen original teriyaki sauce with a hawaiian slant.
Mix soy sauce, mirin & sugar in a pan slowly bringing to boil.
Put the pan on low heat and simmer for a couple of minutes.
Remove from the heat and store the sauce in the fridge to cool the mixture before you marinade.
Marinate chicken breasts in the teriyaki sauce overnight (or for several hours) in the refrigerator.
Cut Bell Pepper and Onion quartered and fit on skewers for grilling, Cook chicken with the bell and onion skewers on the grill, brushing both with teriyaki sauce.
When almost done, place one pineapple ring on top of each breast and brush with melted butter or margarine.
Combine equal parts soy sauce, brown sugar, and pineapple juice adding garlic to taste, in small saucepan and heat until sugar is dissolved.
Serve with chicken for dipping.
*You can substitute mirin with sake and sugar (sake: sugar= 3:1)** Adjust the amount of sugar, depending on your preference.