Pam-I-Am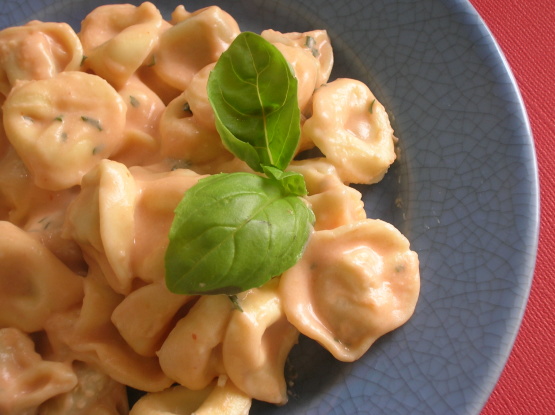 This recipe was given to me at my bridal shower by my sister-in-law. We love this!

I just used this sauce over penne noodles, and found it quite bland and fatty. Next time I'd use the tortellini and some garlic and italian herbs...It really was a heart attack on a plate though:P
tortellini, pasta (any filling)

1

(6 ounce) can tomato paste
1 1⁄4 quarts whipping cream

1 -2

tablespoon butter
salt and pepper
In a sauce pan melt butter.
add whipping cream and let boil.
add one can of tomato paste and stir until blended.
let it cook until sauce is thick and well blended.
add salt and pepper to taste.
(Add some milk if sauce is too thick).
In a large pot, boil water.
add desired amount of tortellini.
Remove from stove once tortelliini rises to the top.
drain well and pour sauce over pasta.
add parmigiano cheese and serve.
Buon Appetito!