Janice's Margarita Martinis for a Party
Nimz1466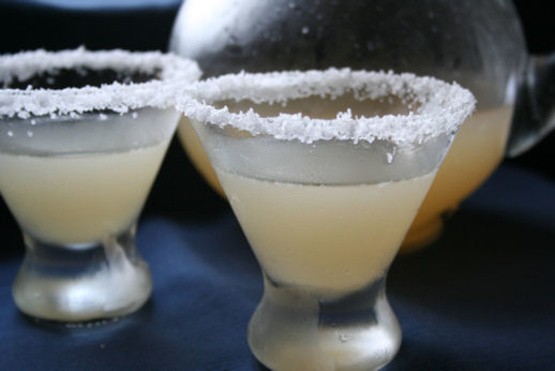 I had these at a friend's house, and they were so good I had to ask for the recipe. She had found it in a magazine, but couldn't remember which one. She had NOT chilled the glasses, but the drinks were just fine anyway. The exact number of servings depends on how much Cointreau is added.
Just before serving, in a ½-gal pitcher combine the tequila, 1 cup Cointreau,& 1 cup lime juice; taste and add more Cointreau if needed to balance the lime.
Pour about 1/4 cup lime juice onto one small plate, and 1/4 cup salt onto another.
Have martini glasses (preferably 5 oz) at hand (chilled, if possible).
As guests request martinis, invert a glass into the plate with the lime juice to moisten rim, then lightly dip into salt.
For each drink measure 2 oz (4 Tbs) of the tequila mixture into a cocktail shaker--do up to 3 drinks at a time.
Add ice cubes (5 standard-size cubes for 1 drink, 8 for 2, 10 for 3).
Shake vigorously 10-15 seconds and strain into the salt-crusted glasses.
Replenish the lime juice and salt in dipping plates as needed.