Italian Flavored Tempeh Nuggets
Rayna M.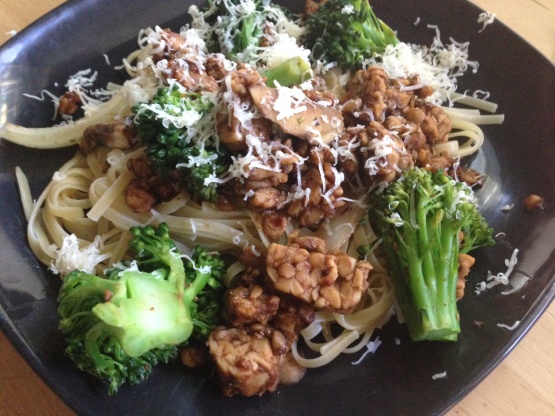 These are amazing! When these cook, the balsamic marinade becomes a delicious caramelized coating. Use these nuggets over salads, over rice or to accompany pasta. They make great little finger snacks too. Cooking time does not include marinade time.

Oh, yum. These are crispy, crunchy, flavorful, deliciousness. I added some korean veggie stir-fry sauce to the marinade(I bought mine at Stop 'n' Shop, I highly reccomend it). These are super simple to make- perfect for a healthy, vegan meal in a time crunch. Loved it!
Cut tempeh into 1/2 inch wide cubes.
Combine the marinade ingredients in a container with a lid, stir to combine.
Add tempeh, cover and shake well until all pieces are coated.
Pace in refrigerator for one hour or overnight.
Shake container every now and again (when you think of it) to coat all pieces. The tempeh will begin to absorb all the marinade.
When ready to cook, heat a non stick skillet over medium low heat.
Add tempeh and any liquid and cook for about 10 minutes, turning pieces until they begin to caramelize.
Serve immediately or keep in a covered container in fridge.