Israeli Couscous, Tomato and Mozzarella Salad
Ilysse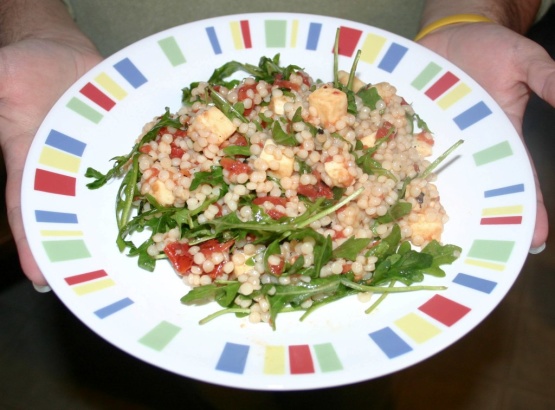 My modifications to #116054. The Israeli couscous really makes this a wonderful salad. A small round pasta such as Pearl Pasta can also be substituted. Can be served right away, but best if refrigerated for a few hours. Great for using up tomatoes and basil from the garden. If using larger tomatoes, dice and drain prior to mixing.
Top Review by Ilysse
Wonderful, everyone loved it! I did make a few changed. I doubled the recipe (and glad I did because it went fast) and used 1 1/2 blocks of Mozzarella cheese, diced. I also used 2 15oz +/- cans of rosted tomatoes because the fresh are out of season and not yummy. I didn't have baslsamic vinegar on hand (thought I did) so I used white balsamic vinegar. It has a lighter taste so I used equal amounts of vin and oil. I look forward to trying the other vinegar. In order to get a really nice burst of flavor I decided to chill the mozzarella mixture like you said but toss it with fresh, hot israeli couscous (I have a few pasta dishes I do this with). Just b4 tossing in the couscous I added a few handfuls of arugula to the mozzarella and tomatoes. After tossing it all together I let it sit for a few minutes while I cleaned up the kitchen (an easy task with this dish) to allow the flavors to meld. Everyone loved it and I'll be making it again. Thanks for posting!
Halve cherry tomatoes.
In a large bowl combine the tomato, mozzarella, olive oil, vinegar, salt, pepper, and garlic, toss well then refrigerate, covered, to marinate for 30 minutes
Cook couscous according to directions.
Rinse Couscous with cold water until cool.
Toss Couscous and Basil with tomato and mozzarella mixture.
Garnish with whole basil leaves serve.