Instant Mega-Healthy Gingered Rhubarb & Strawberry Piece
Ethan UK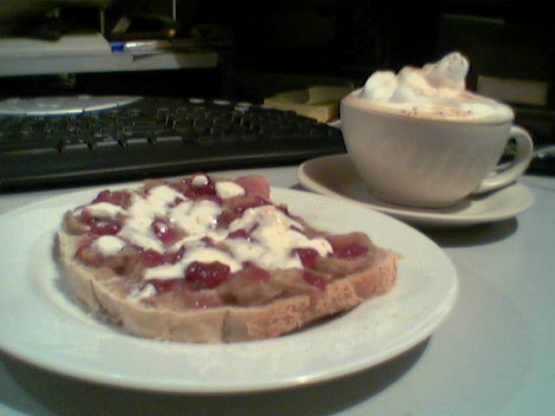 A weird mixture I decided to try last night fully expecting it would taste horrible. My reaction was 'wow!'. It's really good! It's also seriously low-calorie, low fat, low sugar etc. It's kind of like rhubarb, strawberry and ginger pie or flan with cream topping, but so very much healthier and an awful lot quicker! Do give it a go - maybe it'll wow you too! (I've had it four times today already!)
75

g refrigerated canned unsweetened rhubarb (about 2 1/2 Tblsp) or 75 g refrigerated cooked fresh rhubarb (about 2 1/2 Tblsp)
granulated artificial sweetener (to taste, not sugar, sugar doesn't dissolve quick enough!)
1⁄4 teaspoon ground ginger (to taste)
1 1⁄2 teaspoons strawberry jam (to taste)
1 1⁄2 teaspoons nonfat plain yogurt (to taste) or 1 1⁄2 teaspoons cream (to taste)

1

slice white bread
Place slice of white bread onto the plate it's to be served on.
In a small plastic tub spoon the rhubarb pieces and add a good measure of ground ginger. Add granulated sweetener to taste.
Gently stir the rhubarb breaking it up rather to make a sweetened and quite lumpy paste.
Spoon rhubarb out over the bread.
Dot little blobs of strawberry jam in places on top of the rhubarb. Don't spread it or it'll drown the flavour of the rhubarb!
In plastic tub add some yoghurt - and sweeten with the granulated sweetener - to taste.
Dot little blobs of sweetened yoghurt onto the slice to give little creamy spots.
Sprinkle a little more ground ginger across the top.
Eat!
Considering how weird it sounds it's amazing how nice it is!
If you're not worried about the calories you could always use canned/fresh rhubarb that's already sweetened with sugar or honey or similar plus a nice thick cream or creme fraiche.
I suggest used plastic individual yoghurt pots that have been washed and kept for mixing in as being such thin plastic they won't warm up what you put in them for the short time it's there.
In the UK, ASDA stores (part of the Walmart Group) sell a canned rhubarb (in 525g large cans) that is almost nothing but rhubarb, virtually no juice and no sugar. It's 6 (yes SIX!) calories per 100g and is has a wonderful full flavour. It's pretty sour so you'll want to add quite a bit of sweetener. I always keep a can of it in the fridge ready to use.