"i Am Tired of Living" (Cocktail)
Rita1652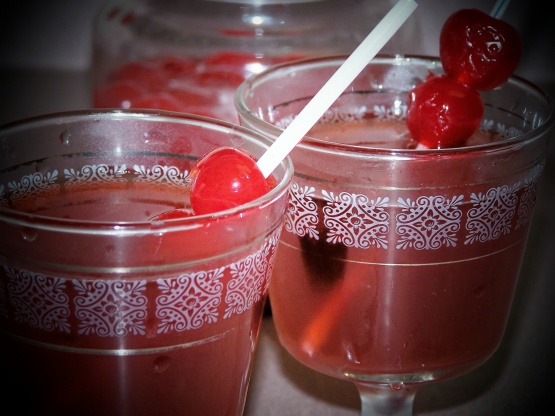 A tea-based cocktail for when you're REALLY tired after a long day. I snatched the name from an unspecified (but apparently very potent)alcoholic drink which was mentioned in Ezekiel Mphahlele's "Down Second Avenue," a book about life in apartheid South Africa.

I used the cracked ice to shake the rum, tequila and Grand Marnier to chill. Wasn't sure what it was for while making. Next time I would serve the drink over the ice. I found this to be a little flat! I would add some sparkling water or soda to it to give it some life. It seemed to have almost an anise taste. Maybe it was the tea? Which I did steep in a cup of hot water. I did use my Drunken Cherries Recipe #50395 for garnish. Don`t get me wrong this wasn`t bad just needed a little something (soda).
Frost two 8-ounce crystal glasses in your freezer for at least 30 minutes or so.
Brew the tea and chill it in the freezer. Stir in the powdered sugar after it cools.
In a separate carafe, blend the rum, tequila, Grand Marnier and the grenadine. Pour this mix into the two glasses, an equal amount in each.
Fill each glass the rest of the way with the chilled tea.
Garnish with a couple of the cherries on a toothpick in each glass.