Hunt's® Bruschetta Chicken Skillet
Hunts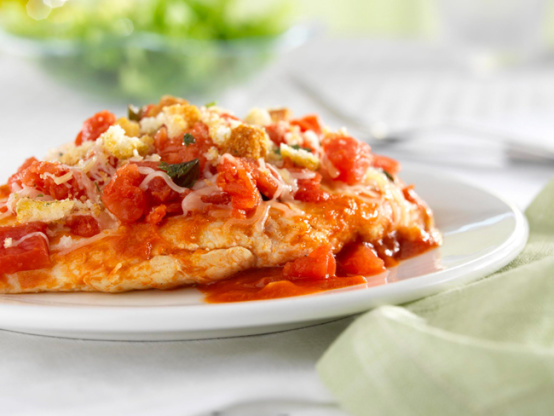 Chicken breast with diced tomatoes, cheese and basil cooked in tomato sauce, then topped with croutons just before serving for the flavor of bruschetta. Don't have a meat mallet to pound the chicken? Use the side of a clean, label-free can or a rolling pin instead.

My family loved this. Definitely planning on putting it into the family rotation of meals. I used cubed chicken instead of breast to be more kid friendly (with my kids who hate to cut meat). Turned out great, and I loved it too. Great way to use up the fresh basil in my garden too.
Stir together drained tomatoes, cheese and basil in medium bowl; set aside.
Pound chicken to 1/2-inch thickness. Top evenly with tomato mixture, pressing onto chicken.
Combine tomato sauce and garlic in large skillet; add chicken. Bring sauce to a boil over medium-high heat. Reduce heat to medium-low, cover and cook 15 minutes or until chicken is no longer pink in centers (165°F). Top with croutons just before serving.