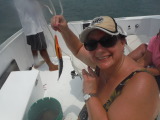 This is one of my favorite things to have for breakfast or just a snack.
Directions
Toast English muffin or bagel in toaster oven.
Put a little butter on each half, place a slice of tomato on each, spread horseradish on each tomato, sprinkle with garlic salt, top with cheese slices.
Heat in toaster oven until cheese is melted.
Most Helpful
This was a yummy snack, actually it was my breakfast. I just put on the horseradish lightly. Thank you so much. This was delicious!