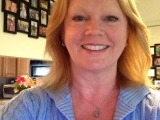 This comes from everyday FOOD, May 2009. It sounds very easy and very tasty and I don't want to lose the recipe when I get rid of the magazine so I'm posting it here.
Directions
Preheat oven to 475.
Line a rimmed baking sheet with foil.
In a large bowl, mix honey, vinegar, soy sauce, garlic, ginger, salt and pepper.
Add chicken and toss to coat.
Transfer chicken and sauce to baking sheet.
Bake chicken, skin side up, basting occasionally with pan juices until well browned and cooked through, 25-30 minutes.
Serve chicken drizzled with pan juices.
Reviews
Most Helpful
I think this recipe is a good starting base. After mixing the sauce, I decided to adjust it a bit. I thought it needed a little more soy and a little more pepper. I would recommend it as a quick prep meal. Thanks for sharing.