Honey Mustard Chicken Salad Napoleons
Lawsome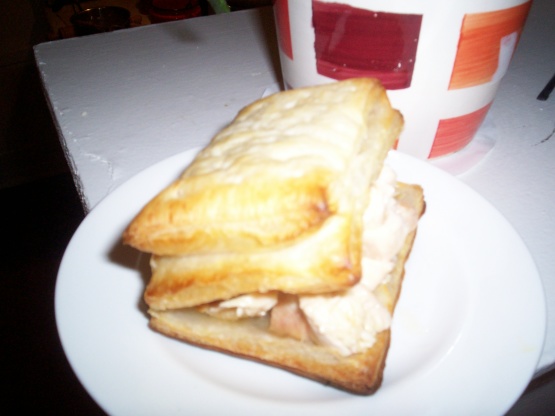 This is from Pepperidge Farm. I just love their puff pastry!!!

I didn't know what to expect, as I've never had honey mustard chicken salad, but these were delicious! I loved the combination of the puff pastry flavor with the chicken salad. The pecans are a must! They would make unique tea sandwiches if the puff pastry was cut into smaller squares.
1

sheet frozen puff pastry sheet (1/2 package)

2

cups chopped cooked chicken
1⁄2 cup chopped pecans

4

green onions, sliced
1⁄2 small red pepper, chopped (optional)

1

cup honey mustard dressing
THAW pastry sheet at room temperature 40 minute Preheat oven to 400°F.
UNFOLD pastry on lightly floured surface. Cut into 3 strips along fold marks. Cut each strip into 2 rectangles. Place on baking sheet. Bake 15 minute or until golden. Let cool.
COMBINE chicken, pecans, onions, pepper and dressing.
SPLIT each pastry into 2 layers, making 12 layers in all. Divide chicken mixture among 6 bottom layers and top with top layers.