alligirl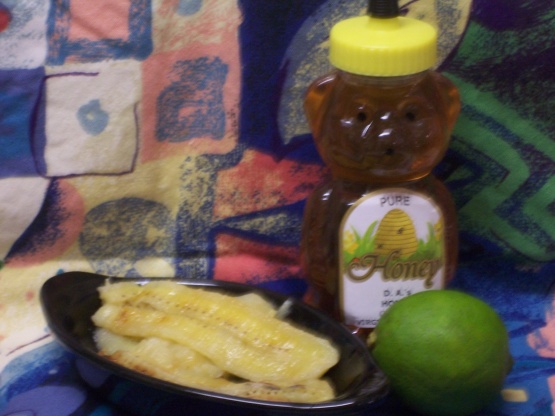 Sweet and tangy. I would serve these with vanilla ice cream! Inspired by Disney's Pass the Plate series for Australia.

Tastes ok and I found the bananas just fell apart when I tried heating them up. Not easy. And I think if you are cooking them at 350 you have to use ice cream otherwise you just end up eating burnt bananas. :(
Peel bananas.
Halve lengthways.
Spray with the cooking spray.
Combine honey and lime juice in a small bowl, and set aside.
Prepare grill, and upon reaching 350 degrees, place bananas on grill cut side down.
Grill for 2 minutes, brush with the honey lime sauce, turn.
Grill for 2 minutes on round side, brush with remaining sauce.
Serve and enjoy!