KPD123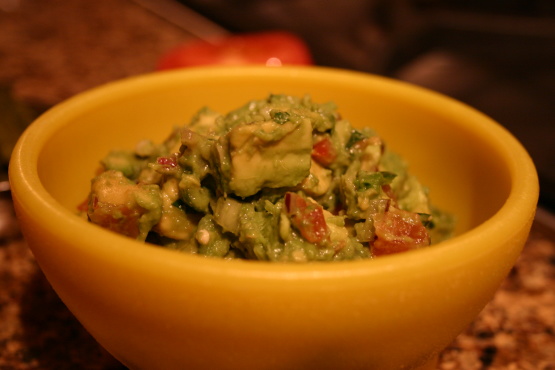 Guac is a beautiful thing... It's a topping, it's a dip, it's easy to put together and you can vary it each time you make it. I prefer my guac to be chunky and very spicy. I use serranos instead of jalapenos because I like their flavor better and they are hotter. You can seed the peppers or totally omit if you aren't a fan of heat. I like to use salsa instead of tomatoes because the tomatoes end up too mushy for me...I know, it's weird! I hope you enjoy!
Cut avocados in half, remove pit and scoop flesh out of shell with a spoon.
Combine all ingredients in a bowl. Using a fork, mash avacado until desired consistancy is reached. ***I like mine chunky, so I barely mash it at all -- just enough to incorporate all the ingredients.
Chill in the fridge until ready to serve.
***Note*** To keep the guacamole from turning brown: Cover entire surface of guacamole with plastic wrap, pressing down into the bowl so that there isn't any air between the plastic and the guacamole, especially around the edges. Then cover bowl with another piece of plastic wrap.