Hoisin Garlic Steak on a Stick
bigNJkid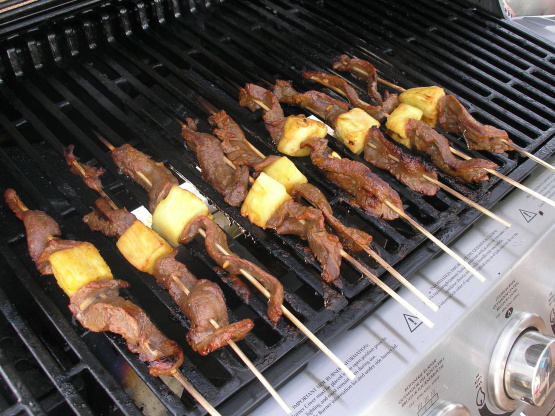 These babies are IMPOSSIBLE to mess up . Bring these to a BBQ and steal the spotlight. Takes a little time for prep but cheap and easy .
2

flank steaks

1

bottle of soy vay hoisin garlic marinade

1

fresh piece ginger, finely chopped

2

ounces maggi seasoning, sauce

1

tablespoon sherry wine
skewer
Take your flank steaks and unroll them and try to trim any excess fat before you start to slice them into strips. Once you have done that take a sharp knife and slice each steak (across the grain) into strips thin enough to be tender but not too thin where they fall apart on the grille. 2 steaks should yeild about 30-35 skewers .
Place the steak in a gallon size baggie and add the hoisin garlic marinade , fresh chopped ginger , maggi sauce , and sherry wine . (optional pineapples) . make sure you get all the air out before you close it .
Once you are done place in the fridge and keep in there for 24-48 hours. The day you are ready to cook them , take your skewers and soak them for a few hours . Once they are soaked , thread the steaks on each skewer but make sure you leave enough room on the skewer to hang off the grille and handle .
Preheat the grille to high and place directly on the bottom row and continue to cook with the lid closed or open . They will be so juicy and thin that you will not need to keep them on long or baste them as they cook .
Once each side has a SLIGHT burn to it take them off and serve. They are so awesome , you will not have to worry about yeilding 30+ of them b/c the smell from the grille will have them hanging over your back.
The Soy vay hoisin garlic marinade should be easily available in most Shop Rites or other super markets Asian isle . I have made these for years and EVERY year I get people constantly showing up for BBQs for them alone.