dermitt3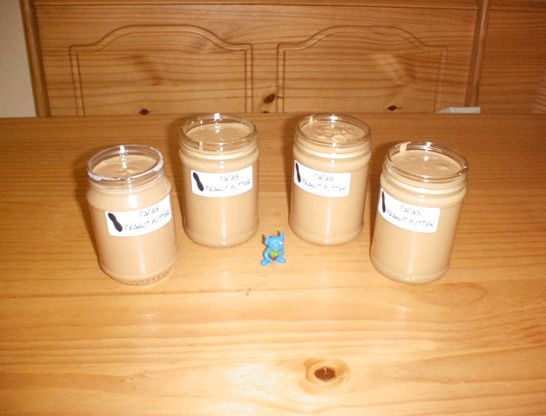 A healthier peanut butter for your children. No chemicals or hydrogenated crap. Don't use salt w/ iodine, peanuts w/msg or regular sugar etc. or you'll end up defeating the purpose and your kids might get wild.

I turned out GREAT!! It's a bit hard on the blender, but definitely worth it. Thank you, this is a fantastic recipe for peanut butter without all that unhealthy additives.
1

(1 lb) jar unsalted peanuts

1

teaspoon salt (kosher pref.)
1 3⁄4 tablespoons demerara sugar (found at wal-mart. or use regular)
1⁄2 tablespoon oil (Extra virgin olive is pref.)
Place all ingredients in a Vita-Mixer (or food processor, or blender.).
Process for 5 minutes using gentle mixing motion w/mixing stick.
Stop and scrape down sides of container and loosen any lodged peanuts.
Process again for 2 minutes or until desired consistency.
Place into old peanut butter jars and refridgerate.