Hazelnut-Crusted Goat Cheese Nibblers
alligirl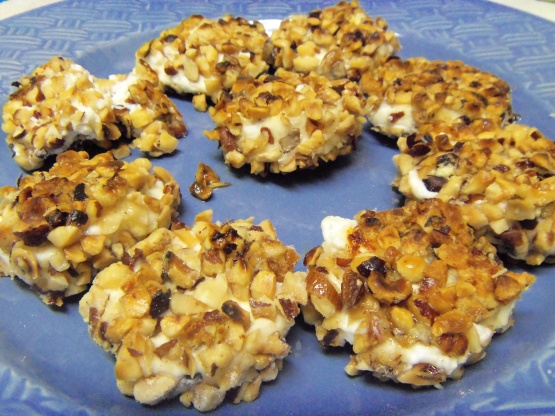 From Homebasics Winter 2007

OK, I really loved this, but I think that the cooking temperature is too high, especially for vegetable oil. I started a bit over medium, and reduced it to between medium-low and medium, and that seemed great. I guess I didn't really 'finely' chop the hazelnuts, but the size was good for me! :-) I also used an egg white, as that is what I had on hand. I reduced the recipe by half, to include in an 'appy' lunch, and got 9 rounds out of 4 oz. of goat cheese. This is rich, but the flavors combine really well. We did not serve with mayo, but found that these were terrific on Ritz. Thanks for sharing, Boomette!
2

tablespoons vegetable oil

8

ounces goat cheese, sliced into 1/2 inch rounds

2

eggs, beaten

1

cup hazelnuts, finely ground
1⁄2 cup mayonnaise (optional)
Heat vegetable oil in a large skillet over medium-high heat. Working in batches, dredge each goat cheese slice in flour, dip into the egg and then coat with hazelnuts.
Fry cheese slices in hot oil for 1 minute per side or until golden brown.
Drain on paper towels and serve warm. You can dip the goat cheese nibblers in mayonnaise if you want.