lazyme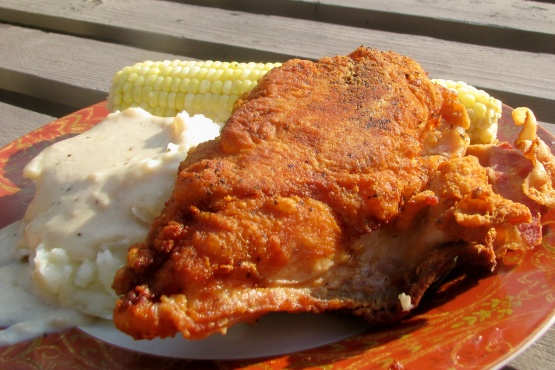 The Splendid Table radio program featured the authors of a book called Fried and True. The authors wrote about their journey through the US looking for the best fried chicken. This is one recipe they posted by chefs Kermit Ruffins and Ray Boom Boom.

Top Review by lazyme
Yum! I haven't made 'real' fried chicken in a very long time. I've been kind of stuck on the oven fried variety for the last couple of years. I totally enjoyed this dinner. Thanks for sharing this wonderful keeper that I will be sure to repeat. Made for Culinary Quest 2014.
Make the dredge: In a large bowl, combine the flour, seasoning, baking powder, and pepper.
Fry the chicken: Prepare a deep-fryer or fill a large (at least 6-quart) pot halfway with oil and heat to 355°F to 360°F Dredge the chicken in the flour mixture, shake off the excess, and fry until the chicken is dark brown and the crust is brittle, 16 to 18 minutes. Drain on paper towels and season with salt to taste.
Note: the authors and chefs kept recommending to "clap" your chicken pieces together after dredging them -- so Clap your chicken!