Happy Family Sesame Chicken
gailanng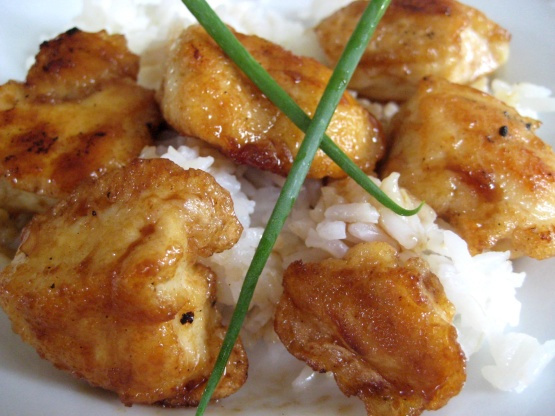 From Leanne Ely's Saving Dinner, by way of a FlyLady post. Serve with rice and a vegetable to make a meal.

Oops. I promised to review this again after trying it. It's a keeper! I get bulk chicken breasts and make freezer meals. This is in the regular rotation. I prefer it saucier so I double the sauce recipe and used about 2 tbs honey/honey sauce and 4 tbs log cabin syrup. Also using potato flour in place of the cornstarch. (I'm sensitive to corn)
Combine honey, sesame seeds, soy sauce and garlic. Set aside.
In a seperate bowl, combine egg whites and cornstarch.
Add chicken to egg mixture. Add salt and pepper to taste. Combine thoroughly.
To Freeze: Put honey mixture in a quart sized freezer bag. Squeeze out air and seal.
Put chicken mixture in a gallon sized freezer bag. Squeeze out air and seal.
Place both bags in another gallon sized bag, and label for the freezer.
Defrost for 24 hours before cooking.
On Cooking Day:.
Heat the oil in a skillet over medium high heat.
Add the chicken and cook until browned, turning as needed. (You may need to do this in two batches, depending on the size of your skillet.).
Pour the honey mixture over the chicken, turning to coat all the pieces.
Top with the sliced green onions and sesame seeds, and serve.