seesko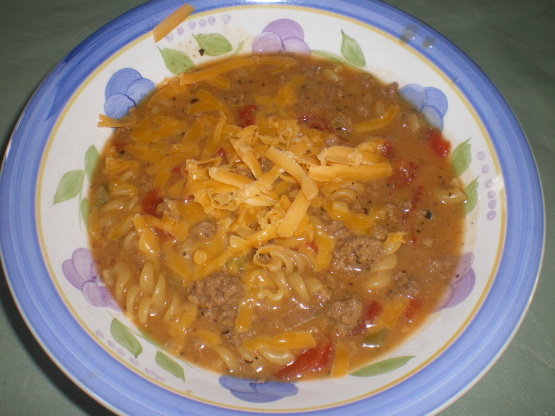 Ok - go ahead and laugh! This comforting soup is well received in times of sadness or trouble. I keep the ingredients in the pantry for just those times, I kid you not!!!

Top Review by Dave C
Hamburger Helper Soup? How odd i thought.Had to use Mixed frozen Veggies in place of Veg-all.GR88888 recipe,thanks for posting.
Brown ground beef and onion in Dutch oven until beef is no longer pink- drain.
Stir in cheese sauce mix from Hamburger Helper package.
Stir in water, basil, salt, pepper& tomatoes, and heat to boiling, stirring constantly.
Reduce heat, cover& simmer 10 minutes.
Stir in macaroni from the Hamburger Helper package, add Veg-All, cover& simmer until pasta is tender, about 15 minutes.
Stir in parsely& serve.