J-Lynn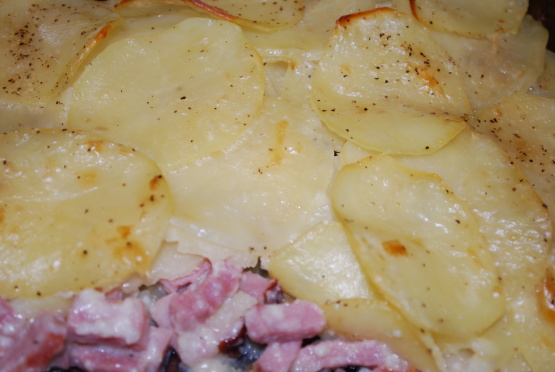 This is the real deal. I found this recipe in an old church cookbook. This recipe was submitted by my great aunt that came over from Germany. We like the sauce so much that I make 1/2 again what the recipe calls for.

Hi Punkarooni! This was such a good recipe. My mom used to make something like it when we were little - she called it poor man's dinner. I have been looking all over for a recipe that compares and this is the ticket! I even screwed up the sauce - forgot to boil and thicken it before adding it to the casserole dish - and it still thickened during cooking and turned out sooooo good! Thanks for helping me find this great link to childhood dinners!
Pan fry ham in bacon fat until brown. Place in well buttered casserole dish.
Melt butter in a sauce pan, remove from heat and blend in flour. Return to heat and add milk. Stir over direct heat until sauce boils and thickens.
Arrange potatoes over ham and pour hot sauce over them. Bake in slow oven (325 degrees) until potatoes are tender, about 1 hour. Cover for first 1/2 hour then remove cover.