Leslie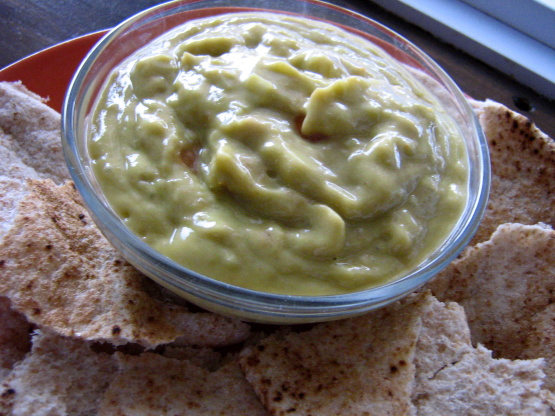 I've tried store bought dips and tried numerous times to "get it right" to no avail, until given this recipe by a Mexican friend of mine who used to own her own restaurant. It's as good as they come, but you need to "cure" it in the fridge for a while so it picks up the flavor of all the ingredients.

Top Review by Leslie
Wow!! A terrific recipe! I scaled this down to use 1 avocado as there are only two of us. I made it in the morning and kept it in the fridge all day before serving it at supper time. It's true, the flavours come out so much better over time. A great blend, and simple to whip up in my food prcessor. I'll be making this one again, thanks for posting!
2 -4

ripe avocados (depending on quantity)

2

tablespoons lemon juice
hot sauce (Tabasco or similar)

1 -2

white onion, diced

3 -4

tomatoes, diced
Peel avocados and blenderize them in a blender or food processor until creamy.
Add diced onion and tomato, stirring well.
Add salt, hot sauce and lemon juice in small amounts, stirring frequently and thoroughly, until the dip is tangy and snappy to your taste. Be especially careful not to add too much salt or too much lemon.
Refrigerate for at least six hours, overnight would be best.
Serve with white corn tortilla chips.