Grilled Wild Mushroom and Brie Cheese Sandwich
IngridH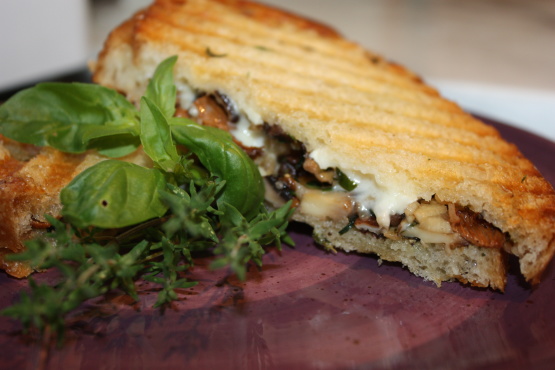 These are decadent and wonderful and give a whole new meaning to "grilled cheese". Be sure to use a very good sourdough and the freshest of mushrooms. Note: This is a difficult sandwich to turn in the pan, but definitely worth the hassle. Enjoy!

Gourmet Adult Grilled Cheese-what a great idea!!! :) I couldn't find fresh oyster mushrooms, only dried, so I just added extra shiitakes. This was easy and made a delicious dinner with a green salad. These will be made again! (P.S.-to make them easier to turn, I stuck 2 toothpicks in each one, to help hold them together. Worked great) Made for TOP FAVORITES of 2009 COOKBOOKS TAG GAME.
Saute the mushrooms in the olive oil in a medium sized pan for 4-5 minutes.
Add the shallots and garlic and cook for an additional 2 minutes.
Add the chopped herbs.
Add the white wine and reduce until the liquid is evaporated.
Season with salt and fresh ground black pepper and set aside.
Butter one side of each slice of bread. Place the butter side down on four slices of the bread in a large non-stick fry pan at medium-low heat.
Divide the mushrooms into four and place them evenly on the four slices of bread.
Top the mushrooms with the Brie and cover with the other slices of buttered bread. Cook for 3-5 minutes or until golden brown; then turn and cook on the other side for an additional 3-5 minutes.
Cut and serve immediately.