Karens95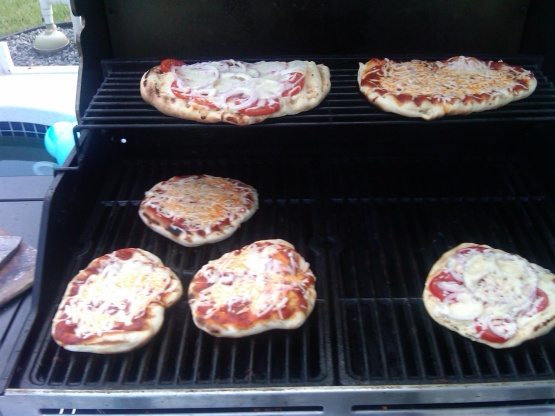 This is a great way to make pizza in the summer without heating up your kitchen! I use this recipe for all kinds of parties....everyone gets to make their own!

This was really an easy meal and everyone enjoyed the crusty pizza! Be sure to have all your toppings ready before you even put the dough on the grill - and remember to pre-cook meats as the grill won't be cooking them, just melting them under the cheese. Enjoy, we sure did!
1

ball pizza dough (store bought or otherwise)

8

ounces pizza sauce

8

ounces mozzarella cheese

8

ounces pepperoni
olive oil, for grilling
Divide dough into 4 balls.
Roll dough and brush with olive oil on each side, place on cookie sheet to carry outside.
Heat grill to medium high and brush grill with oil.
Place dough directly on grill, flip when bubbled on top and bottom is browned.
Once flipped, grill the second side until the dough stiffens but doesn't brown.
Top well browned side with toppings and place back on a low grill until cheese is melted.
I vary my toppings depending on what my crowd likes. I try not to use watery toppings and I saute my veggies first as they won't have time to cook on the grill.
Another variation is to rub the grilled dough with a fresh garlic clove, brush with oil and add parm and fresh herbs - this is a great flatbread and it tastes great with bruschetta topping!