Grilled Herbed Mushroom Vegetable Medley
Peter J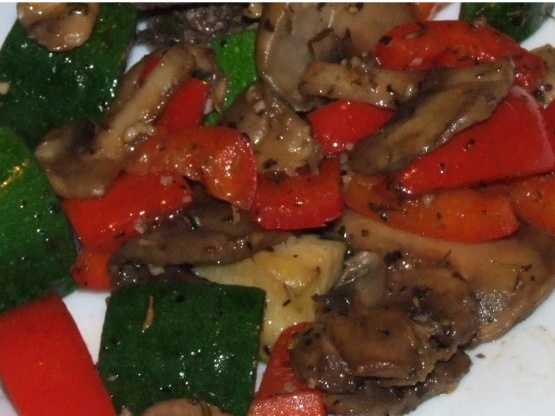 A side dish to your next grilled meal. Easy and simple to make. No pan to wash makes cleanup easy.

This is such a simple recipe, ready when the rest of your meal is ready and nothing to clean up! Quite a lovely mix of colors with the zucchini, yellow sqauash and the red pepper. I used all fresh herbs and the flavors all went so well together. I used a bit more butter, salt and pepper. Thanks, Karen, for the wonderful recipe!
Clean and prepare mushrooms by slicing a thin slice off the bottom of each stem.
Thinly slice mushroom stems and caps.
Combine mushrooms, bell pepper, zucchini and squash in a large bowl.
Combine melted butter, thyme, basil, chives, garlic, salt and pepper in a small bowl.
Pour over vegetables and toss to coat well.
Transfer to a 20x14 inch sheet of heavy duty foil.
Wrap into a packet sealing edges well, leaving space for heat to circulate.
Grill on covered grill over medium coals 20 to 25 minutes or until vegetables are fork tender.