Bergy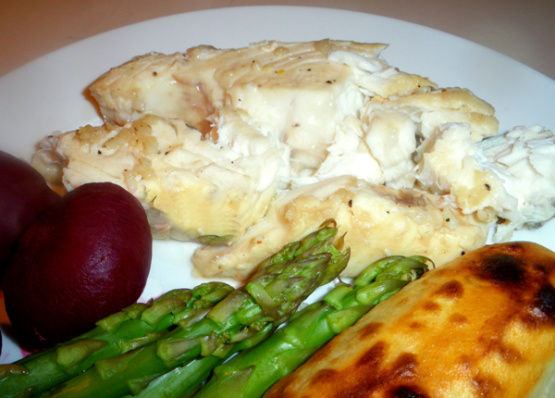 This also works well with other fish steaks. Prepare the soy sauce mixture well in advance, it needs time to cool to room temperature. Because of the sodium content in the soy sauce do not use any extra salt, or use low-sodium soy sauce.

Top Review by Bergy
Just enough flavor to compliment the halibut without overpowering it. I cooked mine in a seasoned castiron fry pan - no oil- I added the left over marinade, covered it with a lid and it actually steamed the fish. The result was a lovely moist fish. Thanks Kittencal for another tasty dish.
Place butter, maple syrup, garlic, lemon juice, soy sauce, ginger (if using) and black pepper in a saucepan; heat until the butter has melted (about 2 minutes) stirring constantly, then cool to room temperature.
Brush each and both sides of the steaks VERY generously with the soy sauce mixture, reserving some to brush on the fish while grilling.
Place into a shallow glass dish, cover and refrigerate for up to 4 hours.
Lightly oil the grill grate.
Cook the fish for about 5 minutes per side brushing with remaining sauce (discard any remaining sauce).