Grilled Chicken & Mushrooms - Everyday Italian
megs_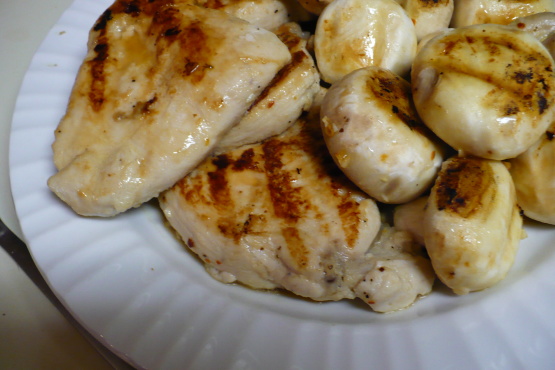 This is a recipe I adapted from Giada's Everyday Italian. She also recommends grilling shrimp and bell peppers with this, but I'm not a fan of either of those and wanted to post this as I have it. She also suggests serving over saffron - I serve with salad instead. I cooked mine on my George Foreman grill and I can honestly say it is one of the best chicken recipes I've ever tried. Full recipe is on foodnetwork.com - Enjoy!
In a medium bowl, combine the marinade ingredients. Reserve 1/4 cup of marinade for muahrooms.
In a large bowl, combine rest of marinade with the chicken breasts. Toss to combine. Cover and let marinate for at least 1 hour. If marinating for longer than 1 hour, make sure to refrigerate.
Place a grill pan over medium-high heat or preheat a gas or charcoal grill. Toss the mushrooms with 1/4 cup of the reserved unused marinade.
Grill the chicken breasts to an internal temperature of 165 degrees F, about 7 minutes a side.
Grill the mushrooms, about 2 minutes a side. Slice the mushrooms before serving, if desired.
Arrange grilled meats and vegetables on a large platter and serve immediately.