Grilled Cheese & Tomato Panini
Debbwl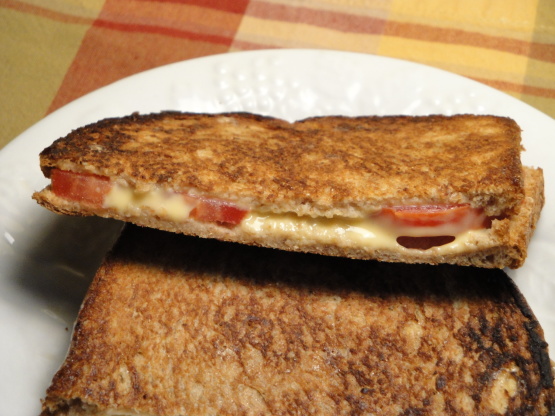 Love this simple panini! You don't need a panini grill to make this recipe.

But using a panini press is lovely. I buttered the outside of both of the 9-grain bread slices, evenly distributed (a quarter inch? maybe) of mexican-style finely shredded cheese (monterey jack, mild chedder, queso quesadilla and asadero cheeses--I used Kroger brand). Used a nicely-ripe roma tomato, cut to cover--pretty much completely--the cheese. This is so easy and really delicious.
Coat a stovetop ridged grill pan or large nonstick skillet with nonstick cooking spray; heat over medium-high.
Meanwhile, assemble panini; lay slices of bread on cutting board; top each with a slice of Cheddar.
Place a tomato slice on top of 4 slices of cheese.
Assemble to make 4 sandwiches.
Cook 3-4 minutes, turning once halfway through.
Press down with a spatula until cheese melts.