awalde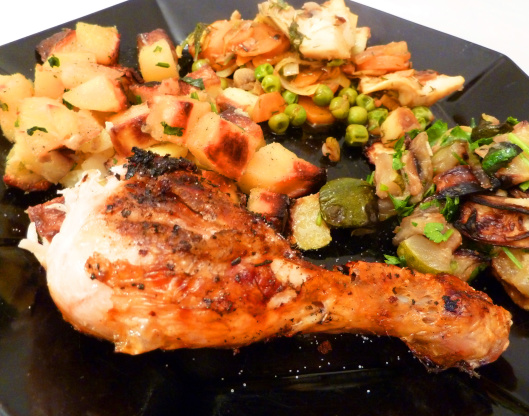 From recipe+ magazine. Have not included 15 minute chilling time in times.

Top Review by awalde
We preapered this chicken cooking it 20 minutes in the oven (350°F/180°C) and finished on natural wood charcoal for about 10 minutes! It was really yummy and easy to prepare.
I kept aside the juice produced in the oven and served later with the chicken from fire.
The juice was too delicious with lemon and oregano, It would be a pity to throw this away!
It came out juicy and tasty. Great recipe! Thaks a lot Pat!
Rinse chicken under cold water and then pat dry with paper towels.
Cut chickens in half lengthwise.
Finely grate zest from 1 lemon and then whisk zest, juice (of the lemon), oil, garlic and oregano in a small bowl.
Place chicken in a glass or ceramic dish and drizzle with half the marinade and then turn to coat and reserve remaining marinade and cover the chicken with plastic wrap and chill for 15 minutes to marinate.
Preheat barbecue to moderate.
Drain marinade from chicken and discard the marinade.
Spray chicken with oil and then add chicken, cut side down, to barbecue grill, cook, covered for 15 minutes.
Turn chicken, basting every 5 minutes with reserved marinade and cover to cook for 15 to 20 minutes until browned and cooked through.
Transfer chicken to a heatproof plate and cover with foil to rest for 5 minutes.
Cut remaining lemons into quarters and spray with oil and add to the barbecue grill, cook turning for 2 to 3 minutes or until browned and heated.
Serve chicken with salad and lemon wedges.