Nif_H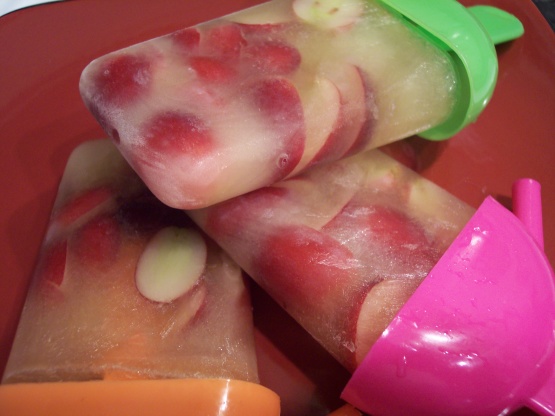 What a cool idea. Pop those grapes in a popsicle mold(or small paper cups), pour in grape juice and freeze. Cook time is freezing time. Yum! Adapted from Pops! Icy Treats for Everyone by Krystina Castella.
1 1⁄2 cups red seedless grapes, cut in half (or green grapes)
4 1⁄2 cups white grape juice (or red grape juice)
Divide grape halves among the pop molds. Pour in grape juice. If using wooden pop sticks, freeze for 1 ½ hours to 2 hours and then insert the sticks. Continue freezing for a total of 6 hours. Remove from freezer. Let stand at room temperature for 5 minutes before removing the pops from the molds. Enjoy immediately. Makes 6 (6-ounce) pops.