Yia Yia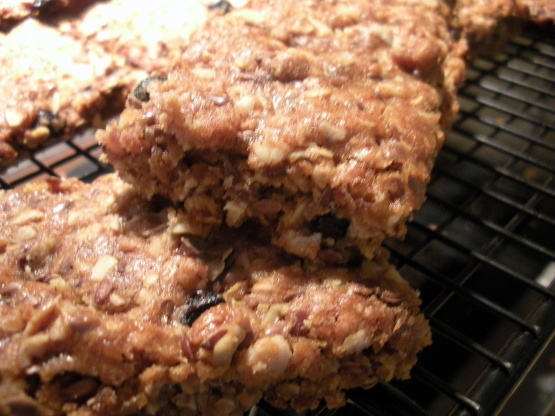 My husband found this recipe, we made them for his marathon and he loved them. I have substituted peanuts, for the walnuts and omitted the raisins and they still taste great. Chewy yet crunchy.

The first time I reviewed this I did not understand how to write a review...this was my first. These are better than the ones in the store...very chewy and full of the good stuff. They are easy to make and they keep well. Thank you jb4!!!!
Preheat oven to 350°.
Line a 13x9 inch pan with foil and spray with Pam.
In a large bowl, stir together oats, flour, brown sugar, raisins,wheat germ, salt, cinnamon, and walnuts.
In a smaller bowl, thoroughly blend oil, honey, egg, and vanilla; pour into flour mixture, and mix by hand until the liquid is evenly distributed.
I use rubber gloves for this.
Press evenly into the prepared baking pan.
Bake 25-30 minutes in the oven or until the edges are golden.
Cool completely in pan before turning out onto a cutting board and cutting into bars.