Grady's Grilled Chicken Pasta
diner524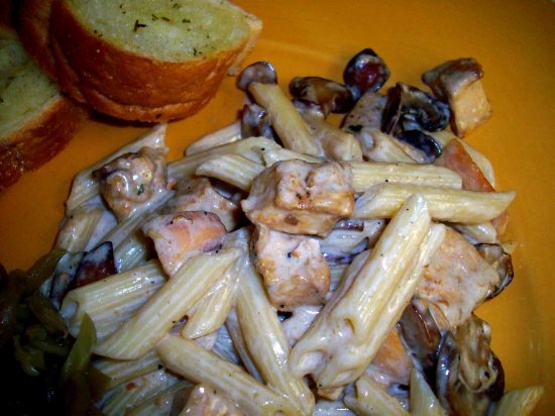 Copycat recipe. Found on the internet. I have yet to try it.
Place the chicken on a preheated char grill. Grill until the chicken is cooked through. Remove and place in the refrigerator.
In a pot of boiling water, cook the pasta to the specifications on the package. Drain well. Meanwhile, in a sauce pan, melt the butter. Sauté the mushroom, green onions, tomatoes, and chopped garlic until the vegetables become soft. Continue cooking until there is very little liquid in the pan.
Remove the chicken from the refrigerator and slice into 1/4-inch strips. Place in the sauce pan with the vegetable mixture. Add the heavy cream to the pan and simmer until the cream begins to thicken. Whisk in the Parmesan cheese, parsley, salt and pepper. Turn off the heat.
Add the pasta to the sauce mixture. Stir well.
Garnish with additional Parmesan.