Gordon Ramsay's Sticky Lemon Chicken
MGarner1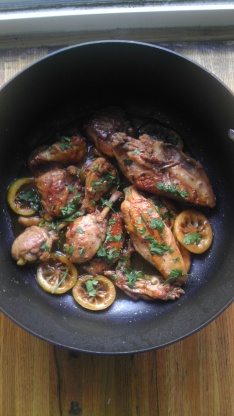 I found this recipe on a youtube video of Gordon Ramsey making this on one of his British cooking shows. These turned out pretty good and the flavors are fantastic! You can watch the video if that would be helpful! In it, he used whole chicken legs/thighs still attached together. I only had Chicken legs and they turned out great! You could probably use the bone-in chicken thighs. This is very easy and the lemon aroma will make your home smell so heavenly!

DELICIOUS!!!! I was a bit skeptical when I read some of the reviews because my family like bold flavors but I was very happy how this turned out! It was so quick and easy I had dinner done in no time! My modifications where I used chicken breasts that I flattened out and adjusted the cooking time a bit so the meat would not get over cooked I also just sprinkled thyme since a Tbsp sounded like a bit much. The sauce it made was very tasty and I served it over rice. Definatley going to Pin this one!
In a large skillet pan, add the oil to Med/High Heat. Season the chicken well with salt and pepper. Add the chicken to the skillet and cook for about 5-6 minutes, turning each piece.
Add the garlic cloves, soy sauce, and honey to the pan, making sure to get all the chicken in the sauces. Coninue to cook for a 5 minutes.
Add the water and lay the slices of lemon on top of the chicken in the pan. Put a lid on the pan and continue to cook for about 10-15 minutes.
Season the chicken with thyme and parlsey. Continue to cook until the chicken cooked through and no longer pink.