Good Eats Fudgesicles (Alton Brown)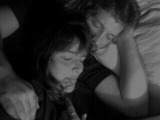 This recipe makes approximately 30 oz total and that will fill about six 5-oz molds.
Directions
Place bittersweet chocolate into a medium bowl and set aside.
Using a medium sized pan over medium heat, ad coco powder, heavy cream, and cold milk. Heat to simmer.
Pour milk mixture over bittersweet chocolate. Let sit for 2-3 minutes.
Whisk gently to combine, then add vanilla and continue whisking till thouroughly mixed.
Pour into popsicle molds and freeze for a minimum of 4 hours. NOTE: A turkey baster will do the trick nicely for filling the molds or you can use a container with a spout, such as a large measuring cup.
Reviews
Most Helpful
I froze these all summer long for my kids and DH and I. When I ran out of my plastic molds I either used paper cups and popsicle sticks or froze them in ice cube trays, then just wrapped them in a paper towel to hand to the kids or let them eat them in a bowl. Either way they were happy! Great flavor and so refreshing when it's hot and sticky out!
OMG these are so good. When I started to make them I discovered that I was out of heavy cream so I used half and half for the cream and milk. I can't even imagine how delicious they'll be when I get more heavy cream! I only had one small 4 popsicle mold and had to reduce the recipe. I'll be on the lookout for more molds now.

Yummo! Boy are these good. I used the heavy cream with skim milk and used almond extract instead of vanilla.....oh, my. So good!