Glen's Creamy Cake Filling (Mock Cream)
Ninna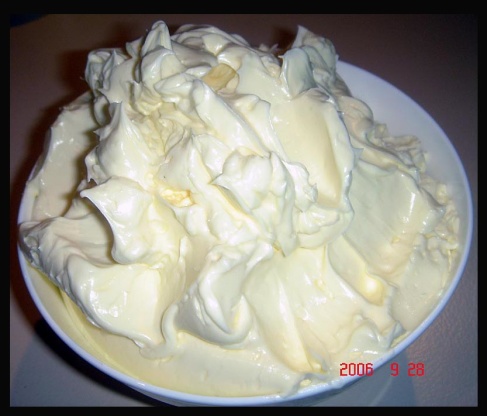 This is a really nice filling sandwiched between tiny meringues for serving with coffee or for piping onto cakes. It should be completely smooth with all grains of sugar completely dissolved. To make chocolate filling add 1-2 tablespoons cocoa with the icing sugar.

Top Review by Weewah
This is very LIGHT, delicious and easy to make. The entire cup of water called for is a little too much (as stated in the recipe). Aim for a total of 2/3 cup or maybe a little more. The whipped butter will only hold so much water (so, a total of 1/3 C boiling 1/3 C cold). I added the (watered) sugar all at once, instead in of increments, to the whipped butter. I added the water in batches far larger than a tablespoon, as I am impatient - and it whipped up fine. The amount of sugar in the recipe was good for me. Next time I will just add the whole 1/3 C boiling water to the sugar and alternate that w/ the cold water. It's simpler.I added a tsp vanilla and about 1/3 C cocoa powder to the creme and it was out of this world for a filling on a rolled chocolate cake w/ walnuts in the batter. This is far better than the fillings that use flour cooked in milk for a thickener. I made one of them yesterday and gave it to the dog - couldn't get over it tasting like cooked flour! THANKS for this one, there are few 'creme' filling recipes out there that don't call for cooked flour or marshmallow fluff or heavy cream cheese. This was excellent and I will make it again and again.
Dissolve icing sugar with very little boiling water, only enough to make it just slide into butter but not be watery.
Beat butter until soft and creamy, then add icing sugar, a little at a time and beat until white and creamy - taste before all the icing sugar has been added to see if it is sweet enough, only add the rest if it is needed.
Add 1 tbs of boiling water, beat again, then add 1 tbs cold water.
Continue beating until smooth, keep adding alternately a little boiling water then cold water until sugary taste has gone.