Gingered Apple-Acorn Smoothie
mliss29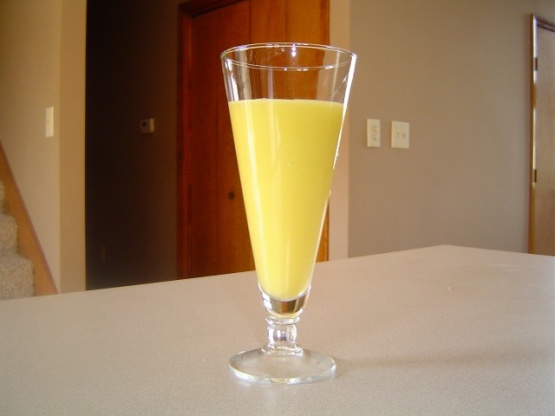 The "Acorn" is acorn squash, of course! ;) Further adventures in trying to feed my liquid-tarian 13-month-old son. When I was making it, I had some fresh grated ginger lying around from another recipe and the smell seemed to be calling me to put it into the smoothie. Turned out to be a great combination. I didn't include cooling time for the squash. If you don't want to cool it, you could probably just add some crushed ice and blend.

This was excellent! I'm always on the look out for new smoothie recipes, and this one is definitely a keeper. However, I'm not sure I ended up making the same recipe at all. :) I did use an apple and an acorn squash to make a smoothie, but the rest was completely different. First, I didn't have any apple juice so I used 1 cup of unsweetened apple sauce instead 1/4 cup of water to thin it out a little. Second, I didn't have fresh ginger on hand, but I do love all of the "fall" spices and I typically use all of them when I use any of them so I used approximately 1/2 tsp cinnamon, 1/2 tsp ginger, 1/2 tsp allspice, 1/4 tsp clove, and a dash of nutmeg.
Wash the squash, cut it in half, and scoop out the seeds. Place it, cut side down, in a dish with about 1/2 an inch of water and microwave it for about 10 minutes. Let it cool in the refrigerator.
Peel the apple, core it, and chop it up into a blender.
Scoop out the squash from the skin and place it into the blender.
Add the apple juice and the ginger and puree.
Pour and serve.