Ginger Orange Applesauce in the Microwave
Kree6528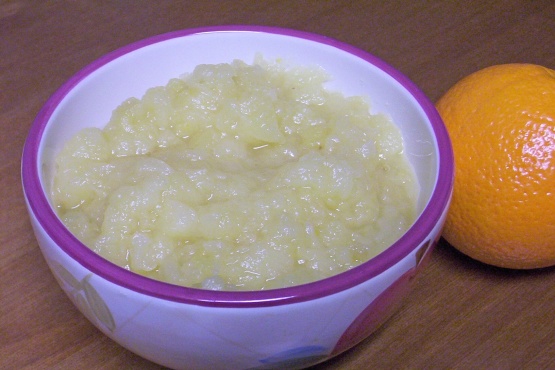 I was trying to use up some fruit that was getting towards the end of its life. Using a recipe in "500 Fat Free Recipes" as a starting point I made one up. I posted the recipe as a private recipe while it chilled so I wouldn't forget how I made it in case it was good! As it turns out, it was excellent. The only change I made was to decrease the amount of candied ginger called for. I used 3 pieces which was a little too intense. If you want a subtle flavor, use just 1 piece of candied ginger.
Wash, core, and quarter the apples. (I like a variety of apples.)
Juice the clementines and the lemon.
Put the apples and both juices into a 2 quart microwave safe dish with a lid. Close it and microwave, on high, for 5 minutes.
After 5 minutes stir and put back in the microwave for 9 minutes on high.
When it is done let it sit for a few minutes without the top on to cool a bit.
Place the apples and all their juice into a food processor and whir until it is nice and creamy.
Add the splenda and whir a bit more.
Chop up the candied ginger and fold it into the apples with a spoon.
Put in a different container and chill.