Ginger-Almond Shortbread Cookies
Pumpkie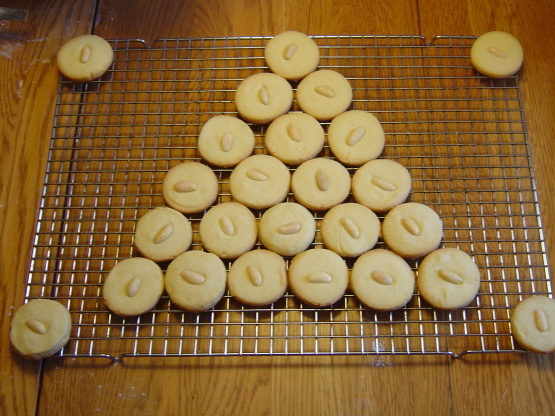 A not too sweet cookie, nice to have on hand or to add to a tray of different cookies. This came from a friends Jewish Grandmother who used to fix them for us occasionally.

I made these to send to my mom, who loves all things ginger. I kept half the recipe since they were delciously buttery and flaky as short bread ought to be, but with fun depth of flavor from the ginger and almond. My only adjustments were adding in crystalized ginger for added chewy texture, and pressing the dough into a sqaure baking dish as my mom used to. (I don't have a rolling pin anyway.) Once cut into bars, they traveled great, of course they looked more casual, but were equally delectible. She raved too. Thanks!
Preheat oven to 350°.
In a large mixing bowl, cream butter with sugar and almond extract until smooth.
Add flour, ginger, and ground almonds and beat mixture until well combined.
On a floured surface, roll dough out to 1/2-inch thickness.
Cut into two-inch rounds and place 1-inch apart on ungreased cookie sheet.
Press a whole almond into the center of each cookie and bake about 20 minutes or until very lightly colored.
Remove to rack and cool.