Annacia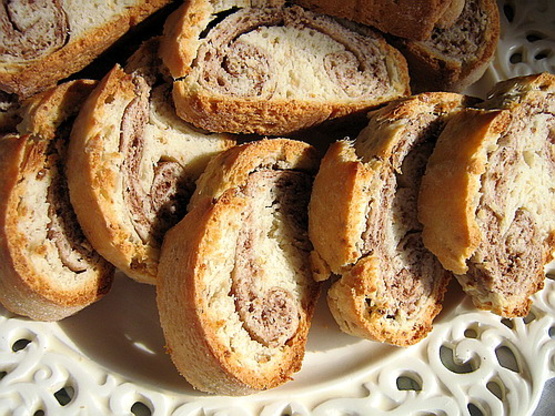 This biscotti like German cookie first appeared in a local diabetic cookbook. I found it on the Internet and was intrigued by the idea of broiling the baked cookie instead of a second baking. If you are not diabetc, the fructose can be replaced with sugar. This untried recipe is being submitted for 'Zaar World Tour.

These are very good. Not too sweet, which is how I like biscotti. I used agave nectar instead of fructose. I am going to make again at Christmas time and use peppermint instead of lemon. There are a number of flavor combinations I think would work in these. WARNING: As stated, they burn easily during the broiling process. Therefore no photo :( They tasted good, but didn't look as good as Annacia's. I will watch them more carefully next time!
2 1⁄2 tablespoons fructose (can be replaced with 3 1/2-4 tbsp. sugar, cookie will be slightly drier)
1⁄2 cup egg substitute (can be replaced with 1 egg & 2 egg whites)
1⁄4 cup margarine, softened

1

lemon, juice of
1⁄4 teaspoon almond extract
1 1⁄2 cups sifted unbleached flour
2 3⁄4 teaspoons baking powder
1⁄2 tablespoon unsweetened cocoa powder
1⁄2 teaspoon ground cinnamon
Preheat oven to 350 degrees.
Combine fructose and egg substitute, beating until light and fluffy. Add margarine, lemon juice, lemon zest, almond extract, flour, and baking powder. Mix well.
Place 3/4 of the dough mixture on a floured board. Form into a rectangle about 3/4 inch (2 cm) thick.
Add cocoa and cinnamon to remaining dough and spread over rectangle. Fold both sides of dough into the middle to make a long, flattened log.
Place on ungreased baking sheet and bake for 40 minutes, until lightly browned.
Remove from oven and slice with a very sharp knife into 1/2 inch slices.
Preheat broiler. Place slices on an ungreased baking sheet and broil for a few moments on each side (be careful; these burn easily).
Cool on a wire rack.
Store in an airtight container.