German Chicken Creamy Corn
Brenda.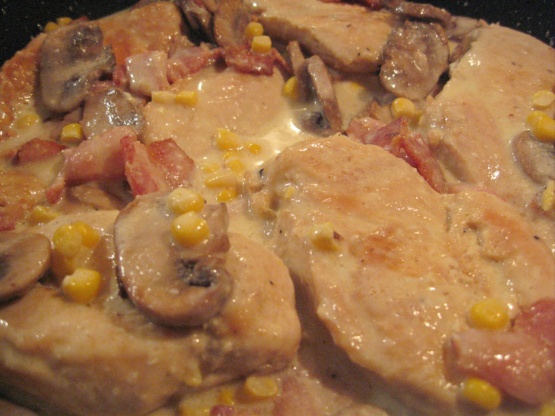 Post for Zaar Tour 2006. Its a super easy and tasty recipe but its has a lot of calories! I always enjoyed it!!!
My German wife of 42 years came home and asked what's for dinner. I told her German chicken. This caused an eye roll and a look of interest because she wan't aware of any special German chicken. Knowing she is a stickler for details (did I mention she is German) I followed the recipe as best I could. I used sour cream with whipping cream 50/50 instead of the "creme fresh" Served over plain spaghetti noodles. She absolutely loved it. After all the the accolades, from said wife, I am thinking of having a TV cooking show. Unless she is messing with me again......
Heat the olive oil in a skillet and brown the chicken.
Cut the bacon in pieces and add it to the skillet.
Add the corn and the mushrooms. Season with salt and pepper and then add the lemon juice and at last the water.
Simmer for 50 minutes.
Add the creme and simmer for another 10 minutes.