George's Crisp Crusted Oven-Fried Chicken by Judy- Jude
luvmybge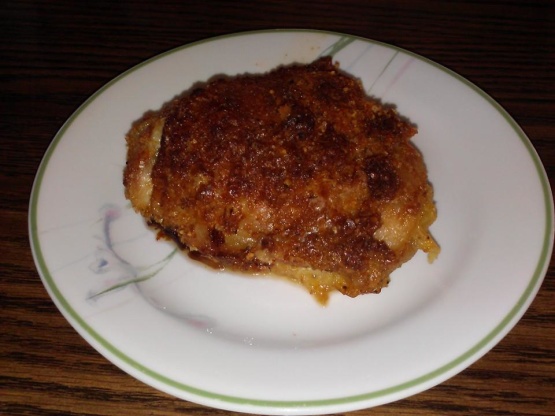 I am posting this recipe to honor Judy- Jude and also for the "Cookathon" in memory of her (Jan. 09). One of her favorite chicken recipes was "George's Oven-Fried Chicken" and this is the other one. It was created by her father and I often call it KFC Judy D's Father's Recipe(s). Instant Potato Flakes are used and it has a nice taste.

This was absolutely DELICIOUS chicken! The chicken was moist and crispy as I love crispy chicken. I used 1 tsp garlic powder in place of the garlic salt and added 1 tsp kosher salt. The seasonings added a wonderful flavor and I was so amazed by using the instant potato flakes, usually I use panko breadcrumbs for crispy chicken but found that the instant potatoes works even better. I made this special recipe for the cook-a-thon held in loving memory of Judy~Jude.
Preheat oven to 400 degrees.
Wash chicken pieces and pat dry, set aside.
Beat egg and milk in a bowl.
In another bowl, mix potato flakes and the rest of the spices and parmesan cheese.
Melt butter in a shallow baking pan (13"x9"x2").
Roll chicken first in egg mixture, then in the potato flake mixture.
Next roll coated chicken pieces in the butter as you place them into the pan (skin side up).
Bake at 400 degrees for 45 to 50 minutes or until juices from meat run clear when pierced with a fork.
Note: If you use garlic powder just be sure to add 1 teaspoon of salt; Judy used seasoned salt per her dad's little crib note on the recipe. I often use more spices to make it taste a little like Kentucky Fried Chicken. This recipe was written up pretty much as I had received it from Judy. Enjoy!