Shuzbud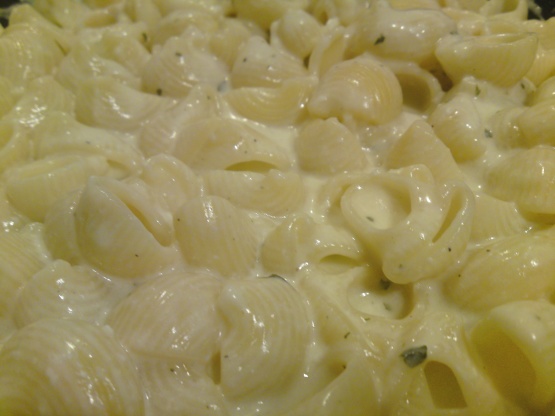 This is written as a Weight Watchers recipe but is easily adaptable to full fat ingredients and tastes good either way! It's not meant to be a complicated, balanced meal but a quick, tasty supper dish that goes well with just about anything. I like the flavour of garlic to be quite strong so feel free to use less if you do not.
Cook the pasta according to the package directions.
A few minutes before the pasta finishes cooking, melt the butter in a non-stick skillet.
Crush the garlic into the pan and cook, stirring, for 1 minute. Make sure the garlic and butter are mixed together so the garlic does not burn.
Add the ranch dressing, sour cream and salt and pepper.
Over a low-medium heat, warm the sauce gently, stirring occasionally.
When the pasta is cooked, mix it with the sauce and serve hot.
Top with parmesan cheese if you have the points to spare!