Nimz1466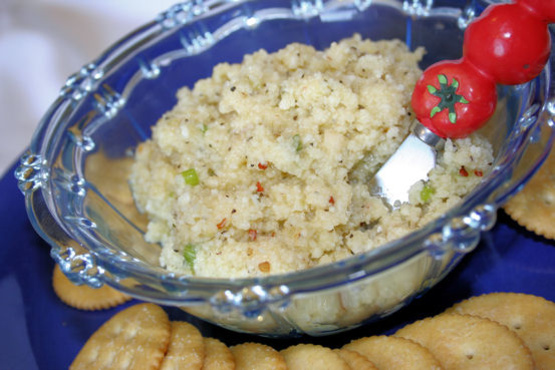 I have no idea why this is called G.L.O.P. nor do I know if it stands for anything. What I do know is this is addicting! This is another recipe from one of my wonderful colleagues.

This had a very interesting flavor to it. If I were going to guess at that the title is it would be "Got Lots of Punch" because the flavors in this are very strong or for us it was. A very unique flavor and something I'll make again. I used the optional crushed red pepper and may increase them a little next time. Thanks for sharing.
Remove rind from cheese and cut into 1-inch chunks.
Pulse cheese in a food processor until the size of fine pea gravel. (This was how the recipe was written. You want small pieces of cheese, like the size of Nerds candy or maybe a little bigger.).
Place the cheese in a bowl and stir in onion and garlic.
Add oregano by rubbing it between your fingers to release the flavor.
Add black pepper and extra-virgin olive oil and mix well. (If using red pepper flakes, add them in this step.).
Cover and let stand 4 hours at room temperature.
Serve on crackers or rounds of bread.