Prep 10 mins
Cook 20 mins

I know there are tons of brownie recipes posted already but i found this one in the local paper and we loved them so I am posting for posterity. Adapted from a recipe courtesy of Alice Medrich.
Directions
Preheat oven to 400°.
Line an 8" square baking pan with foil or parchment paper and let edges overhang on 2 sides.
Melt butter and chocolate in the microwave 2 minutes.
Stir to blend.
Stir in sugar, salt, vanilla and eggs with a wooden spoon.
Stir in flour until smooth.
Stir in walnuts.
Spread batter in the prepared pan.
Cook for 20 minutes and immediately refrigerate.
When totally chilled remove from pan by picking up the 2 ends of foil and cut into 16 squares (spraying your knife with non-stick cooking spray will make cutting these a breeze).
Reviews
Most Helpful
fudgy brownies is such an accurate description for these delicious, sticky on the inside and crunchy on the outside brownies. I had to leave out the walnuts, due to some divurticulitis guests but I'm sure they'd be even more yummy with the nuts. Very easy recipe, I did everything in my 8 cup Pyrex bowl. Also, I didn't put the hot, baked brownies in my fridge (the fridge is kind of small and I don't like to add really hot stuff to it). I set it outside and it cooled off quickly in our 40° temps. Thanks so much chia, we'll be doing this again (my daughter, LauraLoo has her eye on this!)

These were soooo good! I omitted the walnuts but they were still delish! I made them for a tupperware party and everyone asked me for the recipe!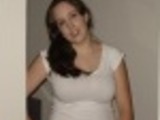 These are really decadent and super-chocolatey! Love the fudgy texture. I made this in a 9" pan so I only baked them for 16mins. I also reduced the sugar to 3/4 cup as I used Valrhona bittersweet choc instead of unsweetened. I also omitted the walnuts as I didn't have any. They didn't really need any frosting, but I made some choc cream cheese frosting and topped them with a slice of strawberry on each square as I'm bringing these to a housewarming party. Thanks for submitting this recipe!