mliss29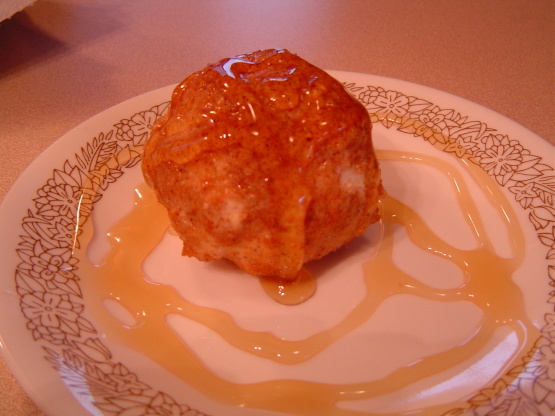 My kids just love to order this at Mexican restaurants so I couldn't resist saving this recipe. It is from Taste of Home.

"This is the best!" said my 3yo son. "Make this again next time....I love this stuff....Oh. My. Gosh," he added. My 11yo son said, "the honey's really good with it." I don't know what temperature I had the oil, but mine started coming undone after about 8 seconds. But wow these were good! Thank you for posting this! Reviewed for Aussie/NZ Recipe Swap #15.
Using a 1/2 cup-ice cream scoop, place six scoops of ice cream on a baking sheet and freeze.
Place heavy cream in a shallow bowl.
Combine cracker crumbs and cinnamon in another shallow bowl.
Dip ice cream balls in cream, then roll in crumb mixture.
Cover and freeze for at least 1 hour.
Refrigerate remaining cream and set aside remaining crumb mixture.
Roll ice cream balls again in cream, then coat again with crumbs.
Freeze for 15 minutes.
In an electric skillet or deep-fat fryer, heat oil to 375 degrees.
Fry ice cream balls for 10-15 seconds or until lightly browned.
Drain on paper towels.
Serve immediately.