Fried Chicken With Peppery Gravy
Annacia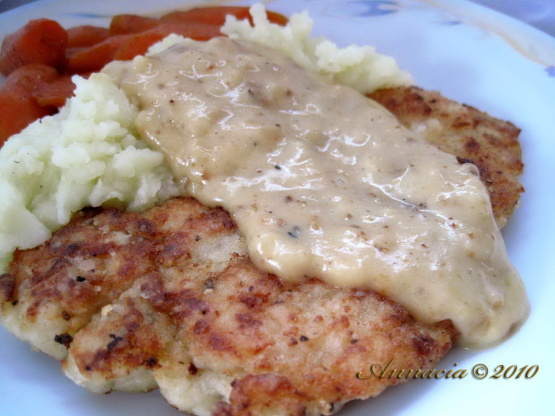 Oh man this takes me back. Talk about the ultimate comfort food! I'm a sucker for creamy, peppery gravy! You must make mashed potatoes with this! This recipe is easy to double if you need. It's just me and DH, so I only make 2 breasts. I hope you like this as much as I do! Enjoy!

At last, I can make fried chicken!!! WhooHoo :D. Truthfully, I was born without the fried chicken gene that was strong in our family. This is the best fried chicken recipe that I have ever made and as a plus it works perfectly with skinless/boneless breasts. The only thing I did differently was to omit the cayenne so that DH would eat it too. Lots of wonderful "down home" flavor, very easy to do, and if I can make fried chicken it's also foolproof. There is no doubt that this will be made again many times over. Made for Photo Tag.
Combine milk and lemon juice in a shallow bowl. In another shallow bowl, combine flour, salt, pepper and cayenne.
Dip chicken in milk and then flour. Reserve leftover flour and milk for gravy.
In a large skillet, heat oil over medium-high heat. Let oil get really hot before adding chicken! Fry chicken about 5 minutes on each side, until golden brown and cooked through. Remove chicken from pan.
Add remaining flour to skillet with pan drippings. Cook, stirring constantly over medium-high heat until flour is golden, about 1 minute.
Gradually stir in remaining milk. Cook, wisking well until gravy is smooth and thickened, which should be about 2 minutes.
Spoon gravy over chicken and serve!