Fresh Tomato-Basil-Asparagus Pasta Salad
ChefLee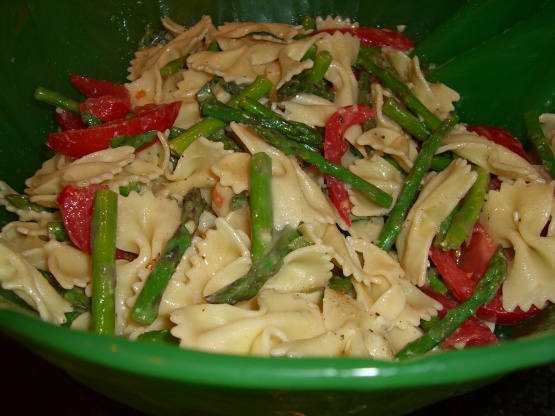 My favorite kind of summer meal when tomatoes are peaking. You can also just chop up a large tomato versus using grape tomatoes. This is from SOuthern Living.
Cook pasta according to package directions, adding asparagus, cut into 2" pieces, during the last 2 minutes of cooking time. Drain and rinse under cool water.
Stir together 1 cup bottled lemon vinaigrette and chopped basil. Pour 3/4 cup of dressing over pasta mixture. Stir in tomatoes, and salt and pepper to taste. COver and chill 1 hour. Toss with remaining dressing just before serving. Garnish with additional freshly basil.