Fresh Crustless Strawberry Pie
dojemi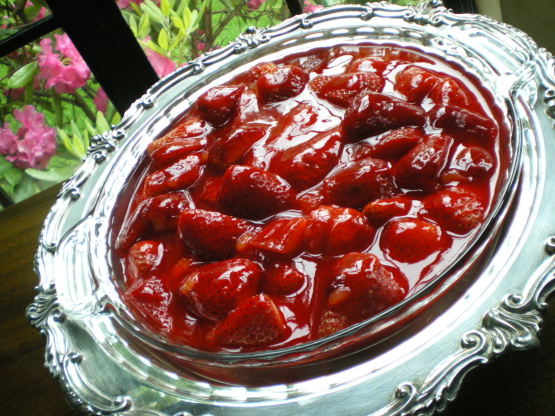 Delicious way to share the fresh strawberries of the season! Or don't! The entire "pie" is 6 WWers points.

I like the concept here...and the taste was, well, ok. I think the big box of SF gelatin was too much, the fake sweet taste was almost bitter. I would try this again with less gelatin.
Use a small pudding mix and a large jello.
The pudding mix and jello should be dry.
Use strawberry jello, sugar free.
Mix pudding mix and water together.
Bring to boil.
Remove from heat and mix in jello crystals.
Place strawberries in a pie pan.
Pour the mixture over the strawberries and chill for at least an hour.