Jubes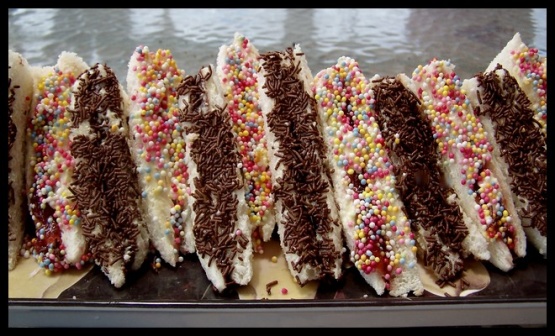 I was looking for something different to serve for a canteen. I came across this recipe in an old magazine. It was so easy and all the young children were so impressed!! Both young and old loved them. The recipe calls for 100's and 1000's but I was unable to list them in ingredients, so I just stated sprinkles instead.
2

loaves thick-sliced white bread

125

g unsalted butter, softened
strawberry jam, to spread
nutella, to spread

1

cup colored sprinkles

1

cup chocolate sprinkles
Butter 1 loaf of bread. Spread half the slices with strawberry jam, then top each slice with remaining slices to make sandwiches.
Butter the remaining loaf of bread.
Spread half the slices with Nutella, then top with remaining slices.
Remove the crusts from all the sandwiches, then cut each into 4 triangles. Lay the sandwiches on two separate platters long-edge down to form 2 long pyramids.
Spread the remaining butter along one side of each pyramid. Sprinkle (I dip) the buttered-side of the jam sandwiches with the 100s and 1000s and the chocolate sandwiches with the chocolate sprinkles.